A Point of Pride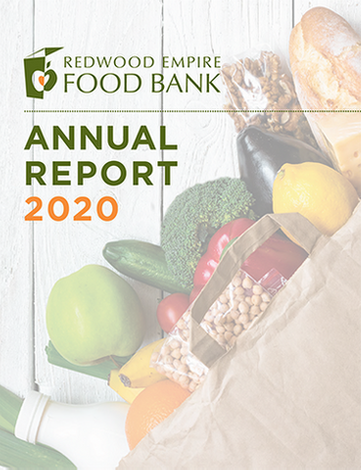 In this 2020 annual report you will read about our challenges and accomplishments during the past year. Because we have all shared the dissonant experience of COVID-19 as a community, I have elected not to provide you with yet one more description of the impact it has had on our lives. Plenty of eloquent writers have done a fine job of describing the unimaginable situation that we have all endured. Instead, I want to share with you the single most important achievement of the Redwood Empire Food Bank since we opened our doors in 1987.
When we began 33 years ago, we were a well-meaning grassroots organization, with just a handful of staff, addressing a little recognized issue, and doing our best to help people facing hunger. At the time, we were a David and Goliath story, facing a most formidable opponent—Hunger. This year, I am proud to say the victory has been ours. With over 300 food distributions available monthly, the people of Sonoma County for the first time could rest easy knowing that anyone who is hungry can receive food.
Of course, we did not accomplish this alone, and the work is not over. Our ability to meet the needs of our neighbors facing hunger results from the generosity of volunteerism, food donations, and financial donations. It is with your continuing support we can fortify our provision of help and continue Ending Hunger in Our Community.
—David Goodman, Hunger Relief Worker & CEO
---
The Redwood Empire Food Bank is a 501(c)(3) Non-profit. Our Tax ID is
68-0121855.
---
Charity Navigator Rating

For the 15th consecutive year, the Redwood Empire Food Bank earned a 4-star rating from Charity Navigator, America's largest independent charity evaluator. A 4-star rating is the highest rating given by the organization. Learn more here.