Since 1987, the Redwood Empire Food Bank has been feeding our neighbors in need and leading the community to end hunger.
We distribute food through our own programs and our partner organizations in Sonoma, Lake, Mendocino, Humboldt, and Del Norte counties. As the largest hunger-relief organization in our area, we work on the front lines of food assistance in our region, playing a crucial role in helping individuals, families, seniors, and children. 
We serve our communities through three initiatives. Every Child, Every Day includes four robust programs that address the nutritional needs of children, targeting both schools and seasonal meal gaps. Senior Security serves 13,000 low-income seniors healthy, fresh food across our five-county region. Neighborhood Hunger Network strives to improve the health and well-being of our community with food and nutrition education.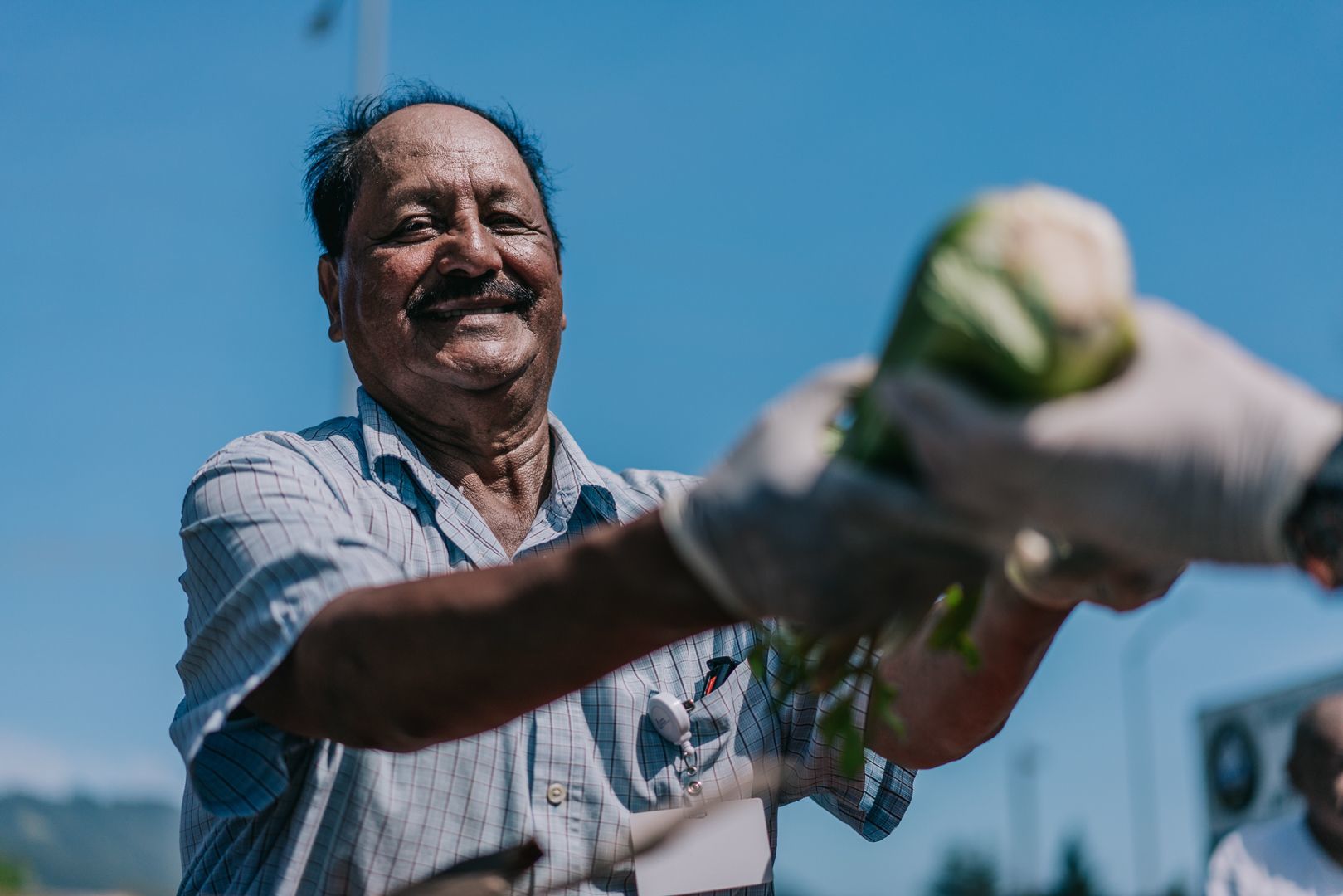 We could not accomplish this without strategic resources. Our donors, corporate sponsors, and foundations provide the financial fuel our organization requires. Over 10,000 dedicated volunteers work at our distribution sites and warehouse to serve or prepare food for our community. But none of this would be possible without our employees. Our employees are the heart and soul of our organization. Their dedication and effort make them that vital Hunger Relief Worker our community relies upon every day. 
What we do is simple, but how we do it is complicated.
In 2022, we distributed enough food for over 21 million meals. To accomplish this, we relied on the support of:
12,552 individual monetary donors
10,378 dedicated volunteers
597 corporate, foundation, and organization donors
102 farms, food manufacturers, and suppliers
82 passionate staff
150 human service organizations
We were given so much food
"Our daughter is a nurse and to help her during the pandemic, we've been taking care of her children. We haven't had to take care of kids in years. Before their arrival, we were barely getting by with just the two of us. Now with the little ones, things are tight. I honestly don't know what I would have done if my neighbor hadn't told me about the Redwood Empire Food Bank. She often came by with fresh veggies and other foods. When I finally asked her where she was getting all the food, she told me about the food bank. I almost cried the first time we visited a distribution site. We were given so much food, plus breakfast and lunch for a week for the kids. I thought I had died and gone to heaven. The food bank is a godsend. I hope one day we can repay you in some way. We are super lucky to have you in the community."
—Grandparents of participants at a distribution site in Santa Rosa, CA