Our Food Connections Resource Center is the first stop for many in our community seeking food assistance. In addition to providing you with an emergency food box, we are here to help you navigate and receive information about vital Redwood Empire Food Bank hunger relief programs and food distributions throughout Sonoma, Lake, Mendocino, Humboldt, and Del Norte Counties. Our team can also help you navigate the CalFresh application process.
You may also visit our Get Food page to find a food distribution site that best fits your needs.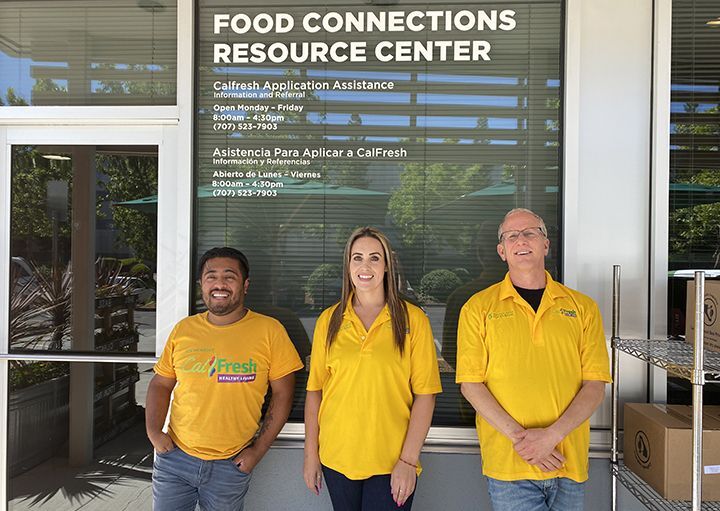 CalFresh Application Assistance
CalFresh is a nutrition assistance program which helps individuals and families purchase healthy foods. CalFresh benefits are issued on an electronic benefit transfer (EBT) card—like an ATM card. You can use your EBT card at most grocery stores, neighborhood stores and farmers' markets.
Who is Eligible?
Any US Citizen or legal permanent resident, eligible immigration status and living under the income guidelines. It's important to know that there are different exemptions for students, seniors and families.
Students
Some student eligibility includes but is not limited to part-time workers, EOP students, Cal Grant recipients, parents, and students approved for Work-Study. Learn more here.
Seniors & Disabled People
Households that have people who are 60 years or older, or who are disabled have special medical deductions.
Out-of-pocket medical expenses include but are not limited to medical, vision and dental care, insurance premiums and copays, prescription & over-the-counter medication, medical supplies, hearing aids, eye glasses, dentures and prosthetics.
Families
If the household is paying for the care of a child, someone who is disabled, or an elderly person, the amount paid for their care can be deducted from their income.
What is EBT?
EBT is the automated system that allows CalFresh and other cash benefit recipients to use a card, much like a debit card, to access their food and other benefits.
How do I apply?
Click here to contact the Food Connections Resource Center team to get pre-screened, set up an appointment and submit your application to the county.
What do I need in order to apply?
We will need your identification, Social Security numbers, and income verification.
What is P-EBT?
P-EBT is a federal program that provides food benefits for families with young children (0-6 years) who also got CalFresh Food benefits between October 2020 and May 2021 or school age children who were eligible for free or reduced price school meals during the 2020-21 school year. P-EBT provides additional food benefits to make up for free or reduced-price meals usually served at child care or school that children may have missed because of the pandemic.
Click here to read Food Connections Resource Center Supervisor, Rigoberto Morales' top 7 reasons those needing food assistance should apply for CalFresh benefits.
Still have questions or unsure if you qualify? Call our Food Connections Resource Center team to find out! We can walk you through the eligibility requirements and help you apply.
Food Connections Resource Center
Monday – Friday
8:00 am – 4:30 pm
3990 Brickway Blvd., Santa Rosa, CA 95403
From Highway 101, take the Airport Blvd. exit.
707-523-7903 | fc@refb.org
Thinking about food all the time
"Do you know what it's like to think about food all the time? Now imagine my babies. They shouldn't have to feel that pain in their tummy because their mom doesn't have a job. There is no reason for any child to suffer from hunger. You and your team are helping stop that. If I could hug you I would. You and your team are amazing. Thank you, you are helping out more than you know."
—Parent at a school site in Santa Rosa, CA