Through wide-reaching hunger relief programs, including vital partnerships with 150 local human service organizations, the Redwood Empire Food Bank operates a vast emergency food system in Sonoma County and throughout our broader service region. With such a robust network of support, we are able to remove many of the barriers our neighbors face in seeking help and weave a strong nutritional safety net, one that is large enough to support our entire community.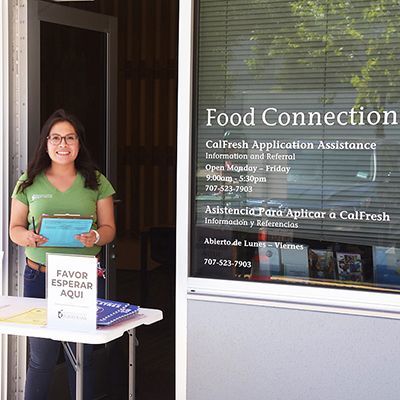 Food Connections Resource Center
Anyone in need of food can contact the Food Connections Resource Center to get help navigating the CalFresh application process, obtain free emergency food boxes, and receive information about vital Redwood Empire Food Bank hunger relief programs and food distributions throughout Sonoma, Lake, Mendocino, Humboldt, and Del Norte Counties.
---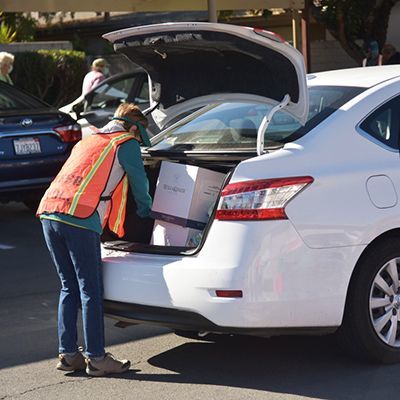 Groceries to Go
The Groceries to Go program provides anyone in need of assistance an offering of government commodities supplemented by the Redwood Empire Food Bank's fresh produce, bread, and donated shelf-stable groceries.
To reduce the spread of COVID-19, all distribution sites have been transformed into drive-through sites with food pre-packed in boxes using the help of volunteers and the California National Guard.
---
Produce Pantry
Through weekly distributions in high-need neighborhoods, our Produce Pantry provides participants with an average of 20-30 pounds of seasonally sourced fruits and vegetables, supplemented by healthy staple foods. Produce Pantry distributions are open to anyone in need of assistance. 
Our Produce Pantry sites distribute fresh produce and donated items throughout Sonoma County. Historically, Produce Pantry distributions are hosted in parks, community centers, health clinics, senior housing complexes, low-income apartments, and churches. Due to the expansion of available USDA commodities, we have transitioned many Produce Pantry sites to Groceries To Go locations. Currently, our 3 Produce Pantry sites are at churches and health centers. 
---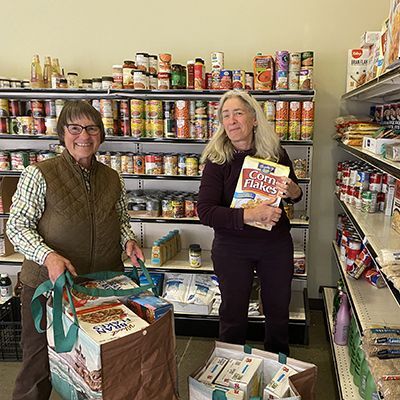 Food Connections Market
Partnering with other hunger-relief organizations throughout our region is essential in fortifying our food safety net. Our 150 partners help to create a vast network of pantries, dining rooms, shelters, group homes, and child care facilities and are located in every city, town, and unincorporated area of Sonoma County. Partners in Sonoma, Lake, Mendocino, Humboldt, and Del Norte Counties acquire food from the Redwood Empire Food Bank's Food Connections Market, our discounted wholesale market, to support their programs, and together we work to support our neighbors in need. 
---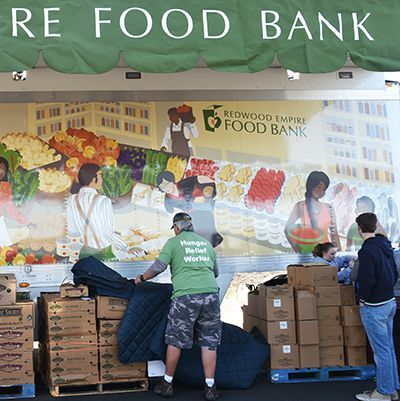 Station 3990
Station 3990 is the Redwood Empire Food Bank's response to disasters. The disasters have been natural, economic, political, human-made, and public health.
Station 3990 is activated and deactivated along with the fluid nature of a given disaster. As an example, when a fire hits, we are certain that we are feeding evacuated people. As time moves on, people who were not part of the evacuation begin attending the Station 3990 distributions. Eventually, we close the Station 3990 activity and move everyone being helped into our regular distributions.
---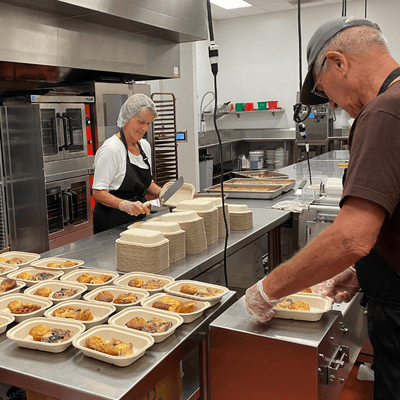 On The Spot Nutrition
Upon arrival at a Redwood Empire Food Bank food distribution, participants are greeted with a healthy meal—providing them nourishment and solving an immediate need. Our Executive Chef and a team of volunteers prepare nutritious meals, which are packaged up and sent to distribution sites. At the distribution site, they are handed out on the spot to participants waiting in line. Participants walk away with a full belly along with their supplemental groceries.
The food is top quality
"As discomforting as it was, we turned to the Redwood Empire Food Bank for help. These aren't normal times, and we know this won't last forever. For now, the food bank has been a godsend. The food we receive from the Redwood Empire Food Bank is top quality, nutritious and our kids love it. Fresh celery and broccoli, chicken and pork, peanut butter and pasta! We knew we wouldn't be able to afford the usual holiday meal we've made for our family in the past, but now, seeing all the nutritious items the Redwood Empire Food Bank provides—we know we can give our three children something that resembles our past holiday meals! It's given us hope."
—Family at a distribution site in Santa Rosa, CA