Many seniors in our community are living on low-fixed-incomes, making unthinkable choices about how to stretch limited budgets, often sacrificing food in order to pay for rising health care and housing costs. The Redwood Empire Food Bank's Senior Basket program ensures that 6,000 low-income seniors living in Sonoma, Lake, Mendocino, Humboldt, and Del Norte counties have access to a consistent source of healthy, fresh food every month of the year—food that supports vitality and independence. Reaching thousands more through our network of partner organizations located throughout our service region, our Senior Security initiative meets the critical needs of our community's most vulnerable elders.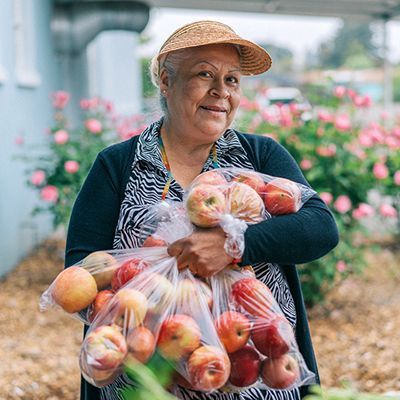 Senior Basket
Whether facing an unexpected hardship or living on a fixed income, seniors in our community have monthly access to an abundance of quality produce and grocery items through Senior Basket. The consistent availability of vitamin-rich foods enables nutritional stability for some of the most vulnerable members of our community. 
Since seniors have been highly encouraged to shelter in place, we have transitioned many Senior Basket distributions to porch deliveries. Rather than seniors coming down to the community room for socialization, a cup of coffee and some mingling with friends and neighbors, they are asked to stay in their apartments and food is delivered to them.
Feeling not alone
"I got word that the Redwood Empire Food Bank will be holding a distribution in Jenner twice a month. On the first food give-away, when I got home with the packages it felt like Christmas... The first box I opened had a jar of peanut butter on top. What a gift! Something that is such a simple staple became the essence of my joy. Feeling cared for, feeling not alone, feeling that folks understood the challenges... What a sigh of relief, and what a great peanut butter sandwich. I have always taken pride in being self-sufficient and not asking for help, but these have proven to be unprecedented times. The regularly scheduled food support gave me hope and literally strength but also came with the sense of community support that I was not alone. The scheduled distribution of staples helped me to stay at home for over 10 weeks! The longest time I have ever hunkered down, out here on the edge of the planet, as it feels sometimes."
—Recipient at a distribution site in Jenner, CA