94% of all Redwood Empire Food Bank resources support program activities.
Last year, the Redwood Empire Food Bank provided food to 33,441 at-risk children through our Every Child, Every Day initiative; provided groceries to over 13,606 low-income seniors monthly through our Senior Security initiative; and enough groceries to feed 117,273 individuals monthly through our Neighborhood Hunger Network initiative.
Improving the lives of our community would not be possible without your support. Here are some other ways to give and help those in need.
Corporate Giving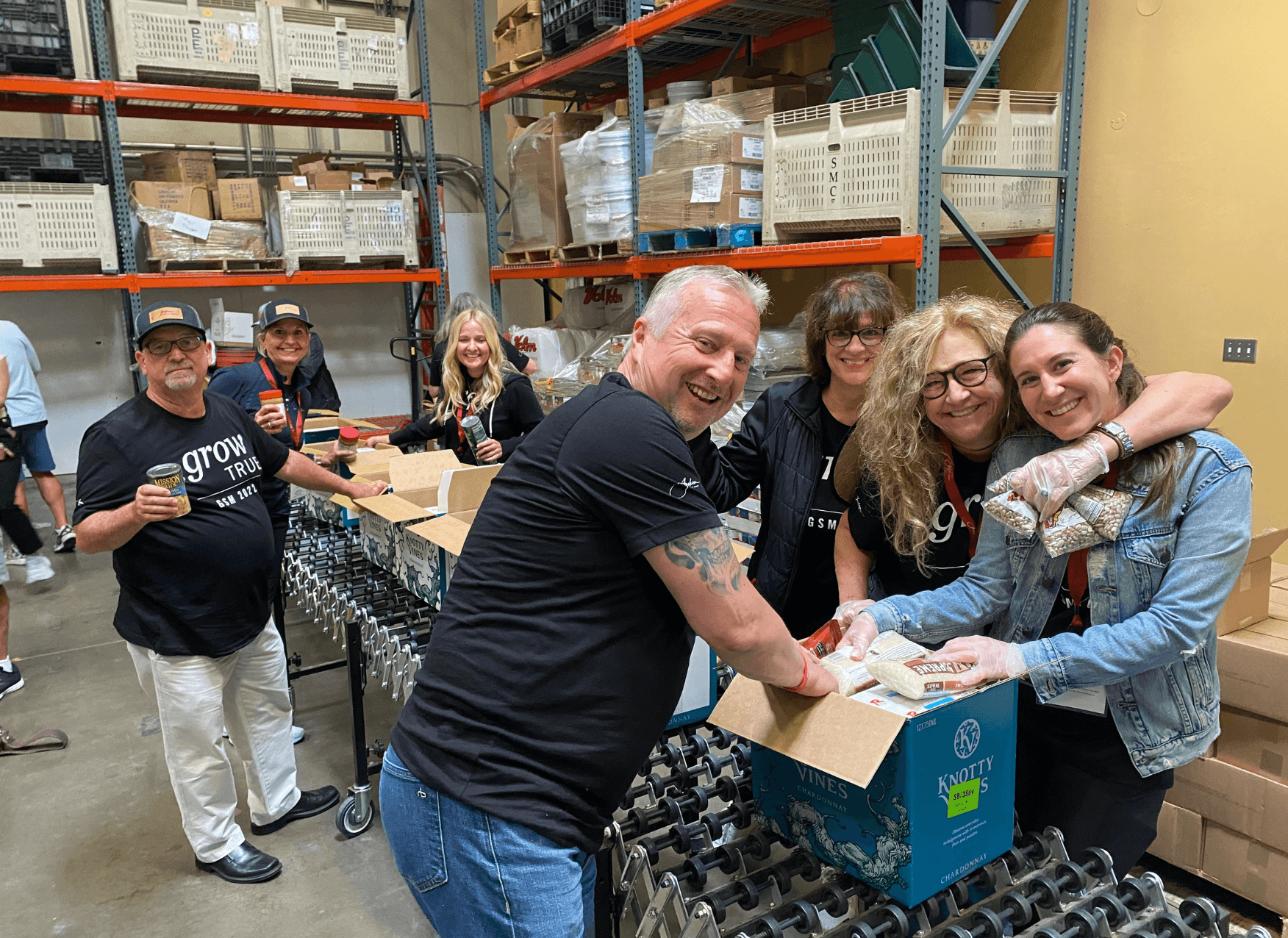 Boost Your Community—and Your Company's Morale
When you join us as a Corporate Partner, your business will be recognized as a leader in the fight to end hunger in Sonoma County. Choose from a variety of fun and rewarding ways to give back.
Make a lasting impact on our community through a corporate partnership with the Redwood Empire Food Bank. Your organization's support will change the lives of thousands facing hunger in Northern California.

Explore our partnership packages, available at a variety of giving levels with included marketing benefits and staff volunteer opportunities.

The food gathered during food drives is the best food we have, because it's chosen by members of our community. Corporations can sign up to run their own drive to both raise money and collect donated food. To organize a drive, please contact Lisa Cannon at lcannon@refb.org or call 707.523.7902 ext. 133.

Every day we have teams from companies around Sonoma County who volunteer their time to help prepare food boxes, glean and bag produce for our neighbors in need. Volunteering at the Redwood Empire Food Bank is also a great team-building activity—with fun music and a new activity, your team will love working toward a common goal. To schedule a group, please e-mail the Redwood Empire Food Bank Volunteer Services at volunteers@refb.org.

Many employers have programs that support charitable giving. Please check with your employer to find out about workplace giving opportunities that can support the Redwood Empire Food Bank. Your support will help nourish a stronger Sonoma County throughout the year. If you'd like to involve your company, please contact your HR representative.

Federal Employees: Did you know you can contribute to the Redwood Empire Food Bank through your combined Federal Campaign (CFC)? Simply designate the Redwood Empire Food Bank as your "Charity of Choice" on your pledge form. The CFC number for the Redwood Empire Food Bank is #66386.
---
Honor a Loved One
Honor the memory of a friend or loved one, or celebrate a birthday, wedding, graduation, or holiday by making a contribution to the Redwood Empire Food Bank. It's a unique and significant way to mark a special occasion, or celebrate the life of a special person, while making a lasting difference in the lives of our neighbors in need.
We will send a letter to the individual or family, gratefully acknowledging your gift in celebration of them. Donate here and select the "tribute gifts" option for your donation.
You may also mail a check or money order to: 
Redwood Empire Food Bank 
3990 Brickway Blvd. 
Santa Rosa, CA 95403
---
Gifts of Stocks, Bonds, Mutual Funds
Take advantage of appreciated securities without incurring capital gains tax.
You transfer securities to the Redwood Empire Food Bank and we sell your securities, using the proceeds for important hunger-relief programs.
Please send an email to Lisa Cannon, at lcannon@refb.org if you're making a donation of stock, alerting her to the gift. Many stock transfers don't include the donor's name or contact information, so the gift shows as anonymous when it arrives.
Morgan Stanley/Redwood Empire Food Bank Account Information:
Account Number: 122-048543
Routing/DTC Number: 0015
To learn more about corporate sponsorship options at the Redwood Empire Food Bank, please contact Lisa Cannon, by phone at 707-523-7900 ext. 133, or by email at lcannon@refb.org.
I'm a prideful person
"I'm sorry you have to see me like this. I'm a prideful person, so this is really difficult for me. I live in my car with my 6 kids and they don't deserve to be hungry because I'm scared of what people will think of me. But the reason why I called you over is because you and the rest of the staff make me feel so welcome. You always talk to us in such a happy tone and almost make me feel like this is something super normal. Because of the food bank, my kids are eating. And because of that, we owe you our lives. Thank you."
—Parent of 6 whose family is living in their car (through tears) in Santa Rosa, CA