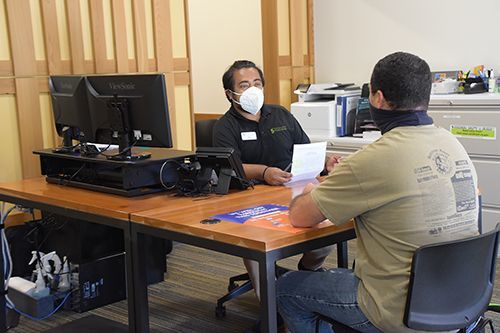 [Español abajo]
CalFresh monthly benefits stretch food budgets, allowing low-income individuals and families to afford healthy and nutritious food. Food Connections Resource Center Supervisor, Rigoberto Morales Mendoza, shares the top 7 reasons those needing food assistance should apply for CalFresh benefits. 
7 reasons to apply for CalFresh
You are not "taking someone else's place" if you apply! CalFresh is an entitlement program, which means that all who apply and are eligible will receive benefits. USDA sets aside funds for the program.  

CalFresh no longer uses paper stamps or coupons. CalFresh benefits are deposited to your Electronic Benefit Transfer (EBT) card that looks and works like a debit card with a PIN number—you can even check your balance over the phone! Your EBT card works at most places that sell food, such as supermarkets and some farmers' markets.

$136 is the average monthly CalFresh benefit per household member.

CalFresh customers get their CalFresh funds matched up to $10 when they shop at participating farmers' markets.

Certain medical expenses may be deducted from the household's gross income for those 60+, or for people with a disability. Expenses can include medical and dental care, prescription medication, medicare premiums and more. 

If you receive Supplemental Security Income (SSI), you can now get CalFresh benefits. There is no change or reduction to SSI/SSP payments.

CalFresh is not welfare and it is not cash aid. Receiving CalFresh will not hurt your chances of becoming a citizen. It is not a welfare program and is not cash aid.  
---
Español:
CalFresh es para personas de bajos ingresos que cumplen con las reglas federales de elegibilidad de ingresos y desean aumentar su presupuesto para poner alimentos saludables y nutritivos sobre la mesa. Nos sentamos con nuestro Supervisor del Food Connections Resource Center, Rigoberto Morales Mendoza, y él compartió las 7 razones principales por las que quienes necesitan asistencia alimentaria deben solicitar los beneficios de CalFresh.
7 razones para solicitar CalFresh
CalFresh es un programa de beneficios, lo que significa que todos los que sean elegibles y soliciten recibirán beneficios. No está "tomando el lugar de otra persona" si solicita. El USDA reserva fondos para el programa.
 El programa CalFresh ya no utiliza cupones ni sellos de papel. Los beneficios de CalFresh se depositan en su tarjeta de Transferencia Electrónica de Beneficios (EBT) que se ve y funciona como una tarjeta de débito con un número PIN. Puede consultar su saldo por teléfono. Puede usar su tarjeta EBT en la mayoría de los lugares que venden alimentos, como supermercados y algunos mercados de agricultores.
Los clientes de CalFresh obtienen sus fondos duplicados hasta $10 cuando usan su beneficios de Calfresh en compras en los mercados de agricultores participantes.
El beneficio mensual promedio de CalFresh por miembro del hogar es de $136.
Ciertos gastos médicos pueden deducirse del ingreso bruto del hogar para personas de 60 años o más o personas con discapacidades. Tales como costos de atención médica y dental, medicamentos recetados cuando son recetados o aprobados por un profesional de la salud calificado con licencia, primas de Medicare y más.
Si recibe Seguridad de Ingreso Suplementario (SSI), ahora puede obtener beneficios de CalFresh. No hay cambios ni reducciones en los pagos de SSI / SSP.
CalFresh no es asistencia conocida como "welfare" ni asistencia monetaria. Recibir CalFresh no afectará sus posibilidades de convertirse en residente o  ciudadano.