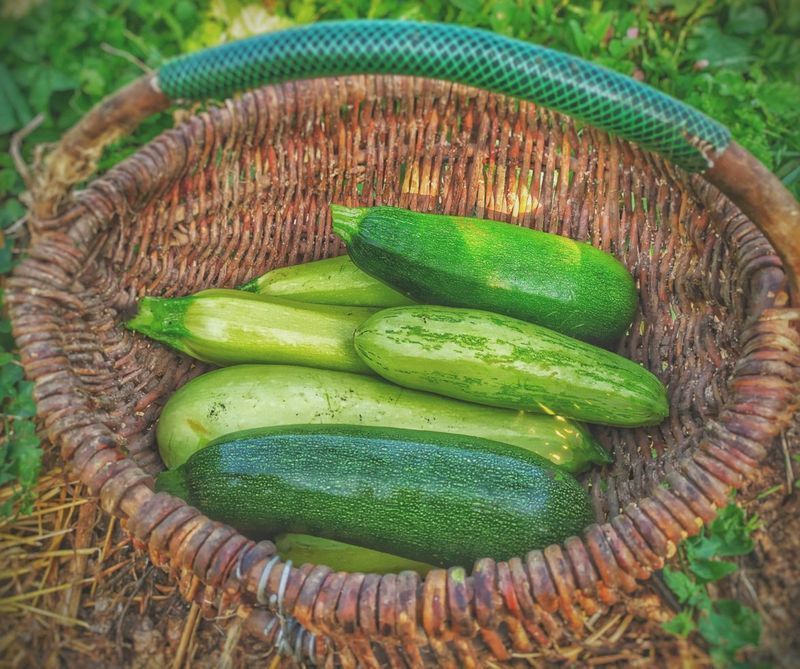 Marinated Zucchini by Chef Duskie Estes:
These tasty, pickled zucchinis go great by themselves, with a sandwich, or on a cheeseboard!
Ingredients:
Zucchini
Salt
1 Cupe Champagne vinegar or rice wine vinegar
2 cups of water
glass jar with lid
1 garlic clove
pinch of chili flakes
sprig of oregano or basil
Directions:
Slice zucchini coins 1/4 inch thick
Generously salt for one hour.
In a saucepan, bring 1 part champagne vinegar or rice wine vinegar and 2 parts water to a boil. Pour over zucchini and refrigerate overnight.
Remove zucchini from the vinegar mixture.
To save for future use, place zucchini in jars, add a garlic clove, a pinch of chili flakes, and a sprig of oregano or basil.
Store in refrigerator. serve as antipasti with meat or cheeseboards.
www.farmtopantry.org | www.blackpigmeatco.com
Secret Ingredient Cupcakes by Chef Duskie Estes:
This amazing cupcake hides so much zucchini… and tastes incredible!
Ingredients:
1 3/4 cup sugar
4 ounces soft unsalted butter
1/2 cup olive oil
1 teaspoon vanilla extract
2 1/4 cup flour
1/2 cup hazelnut or almond meal (or hazelnuts or almonds ground in a food processor)
1 teaspoon kosher salt
1 1/4 teaspoon baking powder
1/2 cup buttermilk
1 3/4 cup finely grated zucchini
1/2 box powdered sugar, sifted
1 tablespoon milk
zest + juice of 2 lemons
Directions:
Preheat your oven to 350°F.
In a mixer, cream together, sugar, butter, oil, and vanilla.
In another bowl, combine the flour, hazelnut meal, salt and baking powder.
Alternately add the dries and the buttermilk to the butter mixture.
Add in the zucchini.
Prepare popover pans with spray and flour.
Bake until set, about 30 minutes.
Once cool, make the icing by combining the powdered sugar, milk, and lemon in a small bowl. The
mixture should be thick like glue.
Glaze tops of cakes. (or a cream cheese frosting is always nice).
www.farmtopantry.org | www.blackpigmeatco.com
Black Pig Zoodle Carbonara by Chef Duskie Estes:
"Zoodles" are a fun way to get kids to eat a lot of zucchini without even knowing it. They are also fun for kids to see being made. I also like a quick saute of zoodles with olive oil, garlic, and chili flakes and then topping them with a hot meatball & tomato sauce.
Ingredients:
2 large zucchini
6 pieces bacon, cut into lardons (www.blackpigmeatco.com please, also available at bi-rite, marina meats, and golden gate meat co. at the ferry terminal, and market hall foods)
2 cloves garlic, peeled and sliced
3 eggs
3/4 cup freshly grated parmesan and more for garnish
A pinch of chili flakes
Kosher salt and black pepper to taste
Directions:
Using a spiralizer, make zucchini noodles.
In a bowl whisk the eggs and parmesan.
In a large saute pan, render the bacon.
When bacon is 50% browned, add the garlic and chili flakes and saute until fragrant, about a minute.
Add the "zoodles" and season with salt and pepper.
Remove the pan from the heat and pour in the egg mixture and quickly stir with a rubber spatula to coat the zoodles.
Serve immediately and garnish with parmesan.