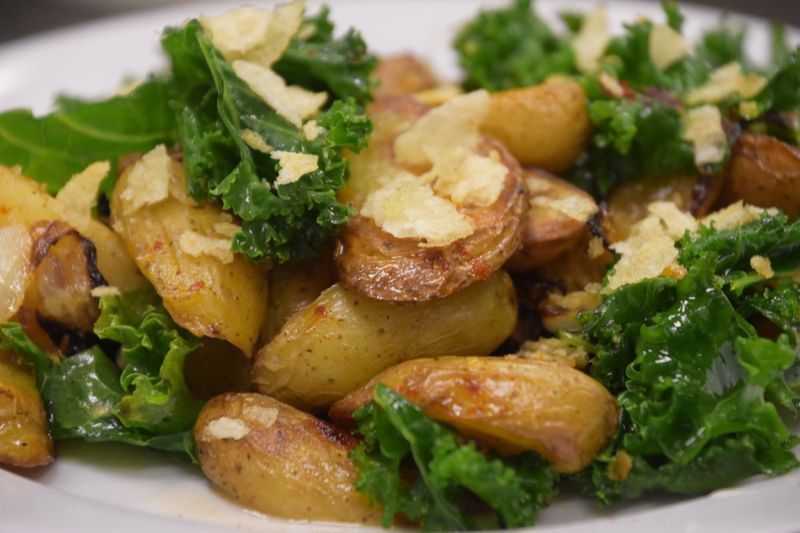 The Redwood Empire Food Bank is receiving produce, dairy, and meat boxes as part of the USDA Coronavirus Food Assistance Program (CFAP) where the USDA is purchasing products from farmers and employing distributors to get the food to nonprofit organizations offering food assistance.
With this comes a ton of fresh produce and delicious ingredients! Check out what Chef Don made with the first produce box received!
Fingerling Potato, Apple and Kale Salad
This warm salad is great as an entrée or served on the side with Pork, Salmon or Chicken.
If there are leftovers, serve the salad cold, or mash together and cook as hash browns.
Ingredients
3 lbs Fingerling Potatoes cut into 1/4 inch slices at an angle
1 White or Red Onion peeled and cut into julienne slices
1 Red or Green Apple sliced into 1/2 inch wedges
1/4 cup Olive Oil
1 tsp Whole Cumin Seed
Salt + Pepper
Apple Mustard Dressing
1/8 cup Olive Oil
1 tbsp Apple Cider Vinegar
1 tbsp Grainy Mustard
Salt + Pepper
Instructions
Preheat oven to 450 degree
Toss potatoes and onions with 2 tsp oil. Season with cumin seeds, salt, and pepper. Place on a 12 x 18 baking pan and place in preheated oven. Cook for 15 mins.
Toss apples with oil and mix with potatoes and onions on baking pan, cook an additional 5 mins.
While potatoes are cooking, mix dressing ingredients in a small mason jar or squirt bottle. Toss ½ of dressing with Kale and massage into leaves.
When potatoes are easy to pierce with a fork, remove from sheet pan and place in a medium-size bowl. Add remaining dressing while potato mix is warm, toss and add kale leaves.
The dish may be garnished with, smoked paprika, green onions, fried onions, or crushed potato
Photo Credit: Karen Preuss Photography